Mott's Back to School Design Contest - Win $10,000 for Your Kid's Tuition! - Mott's LLP
Expired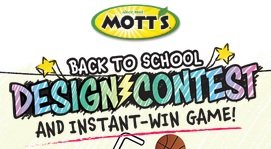 Planning for the future for your talented kids?
Why not start now?

Enter the "Mott's Back to School Design Contest" and get a chance to be one of the two winners of $10,000 for your child's tuition fees plus a special package that remembers the winner. Six winners will also win $5,000 for their children's tuition with a special crayola pack.

Parents or legal guardians of children aged 5 or 12 years old on the date of entry can click on the link below and download the template for their kids to draw on. Each kid could submit up to three entries using the given template and each legal participant can enter up to five kids.

Aside from the contest, each submission will also give the participant a chance to play in an instant win game. The following are the prizes for the instant win game:

Mott's Coupon - 1,000 Winners
Crayons - 1,000 Winners
Washable Paint - 750 Winners
Crafts and Crafts Book - 250 Winners
Scented Gel Crayons - 250 Winners
Construction Papers - 250 Winners
96 Piece Crayon Set - 250 Winners
Coloring Set - 250 Winners
Washable Art Set - 130 Winners
Sketching Set with Color - 100 Winners
Modeling Slime Clay - 100 Winners
48 Piece Markers - 100 Winners
Art Case - 100 Winners
Chemistry Set - 10 Winners
Smart Case - 10 Winners

So what are you waiting for? Enter now!
First Prize
2 Winners: $10,000 For Tuition and Custom Packaging Design
Other Prizes
6 Winners: $5,000 for Tuition and Prize Pack from Crayola
Instant Win Prizes:
Mott's Coupon - 1,000 Winners
Crayons - 1,000 Winners
Washable Paint - 750 Winners
Crafts and Crafts Book - 250 Winners
Scented Gel Crayons - 250 Winners
Construction Papers - 250 Winners
96 Piece Crayon Set - 250 Winners
Coloring Set - 250 Winners
Washable Art Set - 130 Winners
Sketching Set with Color - 100 Winners
Modeling Slime Clay - 100 Winners
48 Piece Markers - 100 Winners
Art Case - 100 Winners
Chemistry Set - 10 Winners
Smart Case - 10 Winners
Entry Form
https://www.mottsdesigncontest.com
Winners List
not available
Restrictions/Eligibility
18+
Added

Started

Expired

Expired

Prize Count

4,558

Prize Value

$108,701.50

Minimum Age

18

Sponsor

Mott's LLP

Type

Contest

Entry Frequency

One Time

Categories