INSP.com Gunsmoke Sweepstakes 2022 Watch TO Win and Codewords - INSP.com
Top
Expired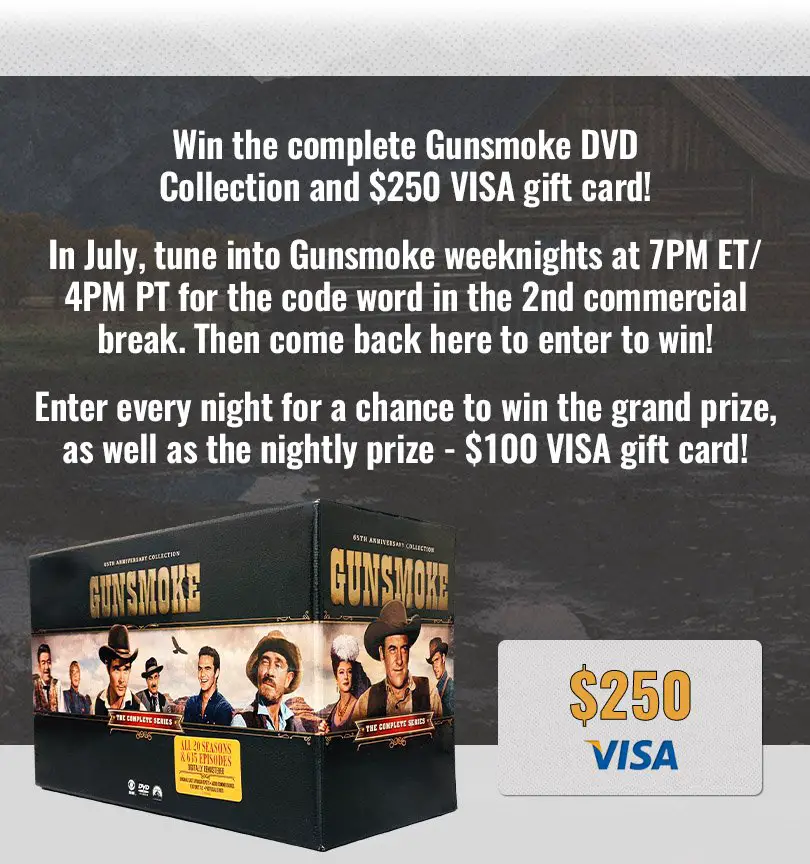 INSP Contest - Insp.com Watch 2 Win Gunsmoke Sweepstakes 2022

Are you a fan of Gunsmoke? Love Gunsmoke cast and episodes?
Did you miss the insp.com Gunsmoke sweepstakes 2021?
Don't miss this latest one for 2022!

TV Secret Code Entry - Win Gunsmoke DVD Collection + $250 Gift Card Or $100 Daily

The insp.com Gunsmoke sweepstakes 2022 is on and you can be the lucky winner of the Grand Prize - The Gunsmoke DVD Collection and a $250 Gift Card.

Apart from the Grand Prize, there is also a daily prize of a $100 Gift Card to be won.

According to the INSP schedule, every week night someone will be the lucky winner of a $100 Gift Card.

How To Enter The Insp Watch To Win Gunsmoke Sweepstakes

To enter you need the insp gunsmoke secret code of the day. You can watch Gunsmoke Episodes daily to get it or you can simply return here every day to get the latest code word.

Here are the insp.com sweepstakes 2022 entry codes

July 1 - Doc
July 4 - Justice
July 5 - Brave
July 6 - Spur
July 7 - Howdy
July 8 - Matt
July 11 - TRAIL
July 12 - Law
July 13 - Cowboy
July 14 - Chester
July 15 - Gunsmoke
July 18 - Wagon
July 19 - Dodge
July 20 … (available soon)


Ready to drop today's entry?
Grab The Gunsmoke Secret Code Of The Day And Go Enter The Sweepstakes NOW!

NOTE: Return daily for the latest code word.

The 2021 INSP Gunsmoke sweepstakes has expired so you can't use last year's code words for this year's sweepstakes.

If you missed out being one of the insp.com Gunsmoke sweepstakes 2021 winners, you don't want to miss out on this one.

Click below to enter.
First Prize
Gunsmoke: The Complete Series DVD + $250 Gift Card = 1 Winner
Value = $568
Other Prizes
$100 Gift Card = 21 Winners, 1 Daily
Entry Form
https://www.insp.com/watch-2-win/
Winners List
not available