Hornitos® Now's Your Shot Sweepstakes and Contest - Win A $20,000 Culinary, Music Or Adventure Prize Package - Jim Beam Brands Co
Top
New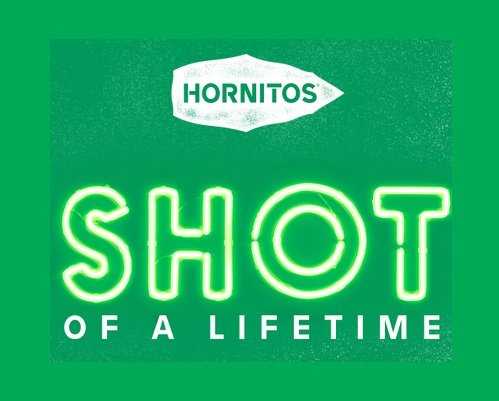 $20,000 worth of prizes for culinary, music and outdoor adventure?
Sounds amazing right?

Enter the Hornitos® latest contest and sweepstakes and get a chance to win prize packages related to music, culinary and outdoor adventure. From August 1 to October 1, 2022, Hornitos® will accept entries for those interested to experience these activities worth $20,000.

The prize for each package are the following:

Music - Six-Hour Recording Studio Session with Sound Engineer and Musicians in New York, Photo Session with a Graphic Designer, A Trip for Two to New York with Three Nights Hotel Accommodation, $1,000 and Hornitos® Gift Pack

Culinary - $9,500 Gift Cards, Chef and The Dish Gift Cards for Culinary Training Worth $10,000, One Chef Jacket and Hornitos® Gift Pack

Outdoor Adventure - An Adventure Package to Jackson Hole, Wyoming for Two with Airfare, Five-Nights Hotel Accommodation, Ground Transportation, $3,000 and Hornitos® Gift Pack

Impressive right?

But aside from the contest, Hornitos® will also randomly select six winners for each category and these winners will receive the following:

Music - $350 Gift Card for Guitar Center
Culinary - $349 Gift Card for Pizza Oven
Outdoor Adventure - $350 for Airline and Outdoor Gear Gift Card

So what are you waiting for? Click on the link and submit your entry today!
First Prize
1 Winner: $9,500 Gift Cards, Chef and The Dish Gift Cards for Culinary Training Worth $10,000, One Chef Jacket and Hornitos® Gift Pack
1 Winner: Six-Hour Recording Studio Session with Sound Engineer and Musicians in New York, Photo Session with a Graphic Designer, A Trip for Two to New York with Three Nights Hotel Accommodation, $1,000 and Hornitos® Gift Pack
1 Winner: An Adventure Package to Jackson Hole, Wyoming for Two with Airfare, Five-Nights Hotel Accommodation, Ground Transportation, $3,000 and Hornitos® Gift Pack
Other Prizes
6 Winners: $349 Gift Card for Pizza Oven
6 Winners: $350 Gift Card for Guitar Center
6 Winners: $350 for Airline and Outdoor Gear Gift Card
Restrictions/Eligibility
21+