iDrinkCoffee.com Autumn Sweepstakes - Win an Espresso Machine and Coffee Grinder - iDrinkCoffee
Top
Expired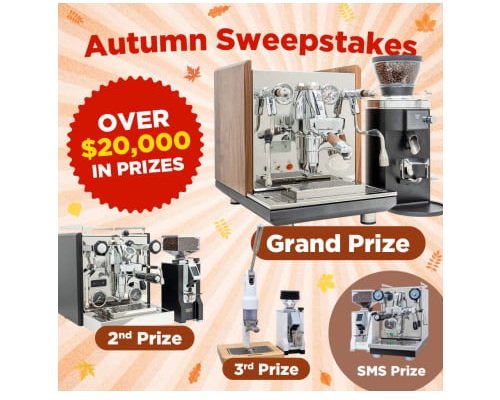 Do you consider yourself an avid coffee drinker?
Then you should not miss this amazing giveaway!

iDrinkCoffee.com is currently accepting entries until November 7, 2022 for their Autumn giveaway and they will select one winner for each of the following prizes:

ECM Synchronika Espresso Machine and Mahlkonig Grinder
Profitec Espresso Machine and Eureka Oro Grinder
SuperKop Espresso Machine and Eureka Zero Grinder
Profitec Espresso Machine and Eureka Oro Dolce Vita Grinder (SMS Winner)

Together, these prize packages cost more than $20,000 and one of them could be yours.

If you're interested, simply click on the link below and follow the instructions to register for an entry. You can also register through SMS to qualify for the exclusive giveaway.

So what are you waiting for? Enter now!
First Prize
1 Winner: ECM Synchronika Espresso Machine and Mahlkonig Grinder
Other Prizes
1 Winner: Profitec Espresso Machine and Eureka Oro Grinder
1 Winner: SuperKop Espresso Machine and Eureka Zero Grinder
1 Winner: Profitec Espresso Machine and Eureka Oro Dolce Vita Grinder
Entry Form
https://app.viralsweep.com/sweeps/full/29eeec-120850?framed=1#f3710951
Winners List
not available
Restrictions/Eligibility
18+, Also Valid in Canada, Taiwan and Japan