Socios.com 2022 Steelers For A Day Sweepstakes - Win Game Tickets, Steelers Facility Visit & More - Pittsburgh Steelers
Expired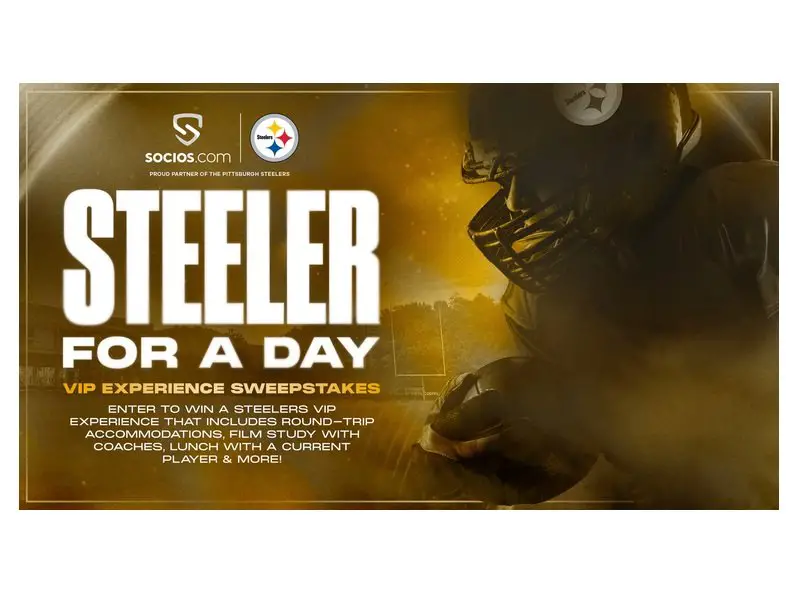 Are you a fan of the Pittsburgh Steelers?
Do you often wonder what it would be like to live like a pro football player?
If your answer to both questions is a resounding YES! This is the giveaway for you!

Check out the latest giveaway from Socios.com and be one of the five winners of the ultimate fan experience. The winners and their guests will be flown to the Steelers home field to participate in a film study with actual NFL coaches, enjoy facility lunch with a Steelers legend and even experience passing, punting and kicking competition with an actual NFL player! The winners will also receive custom jerseys for a more authentic experience.

Aside from these ultimate prizes Socios.com will also give out the following:

Two tickets to the Steelers Hall of Honor Induction Ceremony on November 12th and one Steelers signed merchandise to one winner.

Four tickets to Steelers vs. Ravens on December 11, 2022 and one Steelers signed merchandise to one winner.

Runner-up winners will also have a chance to win two club tickets to the Steelers Home Game vs. the Bucs and one one Steelers signed jersey.

What are you waiting for? Enter now and these amazing prizes could be yours soon!
First Prize
5 Winners: Participate in a Film Study with Coaching Staff, Lunch at the Facility with a Steelers Legend, Participate in Punt, Pass and Kicking Competition with a Steelers Player, Airfare, Hotel For Two and a Custom Jersey
Other Prizes
1 Winner: Two Tickets to the Steelers Hall of Honor Induction Ceremony on November 12th and one Steelers Signed Merchandise
1 Winner: Four Tickets to Steelers vs. Ravens on December 11, 2022 and one Steelers Signed Merchandise

Runner-up Winners will also have a chance to win two club tickets to the Steelers Home Game vs. the Bucs and one one Steelers Signed Jersey
Entry Form
https://www.steelers.com/fans/contests-and-promotions/steelersforaday/
Winners List
not available
Restrictions/Eligibility
18+, Also Valid in Mexico