Win A Rockstar Vacation In The Splash Blast Just Dance Bottled Beats Giveaway - BlueTriton Brands, Inc
Expired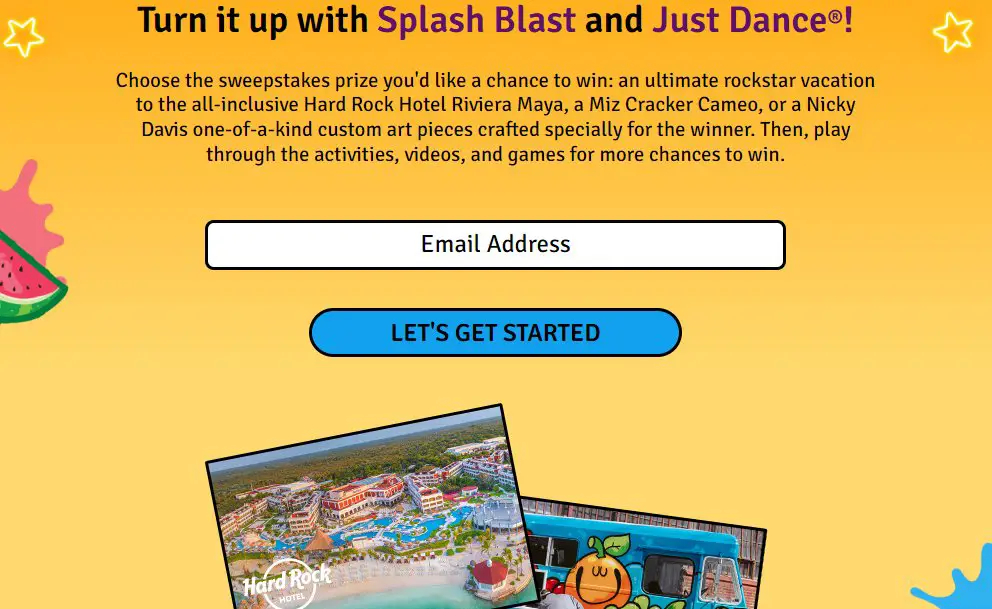 Enter to win some amazing prizes. There are lots of prizes to be won, and different ways to get involved in the sweepstakes.

70,000 lucky winners will be rewarded with different prizes including a free trip or a chance to meet with Miz Cracker virtually.

Since there are loads of prizes to be won, you also get a chance to choose the sweepstakes prize of your choice, and also win game prizes to enhance your chances.

Here are details of how to enter:

There are three separate monthly entry periods, while the Instant Win Game consists of three phases. Simply follow the instructions to be entered into the drawings.

The sweepstakes prizes include:

Three Cameo.com prizes where each winner will virtually meet Miz Cracker worth $15,000.

Three Artwork prizes where each winner will be rewarded with a custom Nicky Davis digital artwork valued at $5,000.

Three resort prizes where each winner will receive a trip for two. The trip package consists of the following:

A round-trip coach-class air transport for two worth maximum of $5,000.

A four-nights all-inclusive accommodations at the Resort, including meals, select drinks, gratuities, non-motorized water sports, and entertainment worth $3,300.

There will also be instant prizes including: $1 off three Fizz singles for 30,000 lucky winners.

40,000 lucky winners will each receive $.50 off Splash 6pk .5L or 8oz.

Go give it a shot!
First Prize
Three Cameo.Com Prizes Where Each Winner Will Virtually Meet Miz Cracker Worth $15,000.

Three Artwork Prizes Where Each Winner Will Be Rewarded With A Custom Nicky Davis Digital Artwork Valued At $5,000.

Three Resort Prizes Where Each Winner Will Receive A Trip For Two. The Trip Package Consists Of The Following:

A Round-Trip Coach-Class Air Transport For Two Worth Maximum Of $5,000.

A Four-Nights All-Inclusive Accommodations At The Resort, Including Meals, Select Drinks, Gratuities, Non-Motorized Water Sports, And Entertainment Worth $3,300.
Other Prizes
There Will Also Be Instant Prizes Including: $1 Off Three Fizz Singles For 30,000 Lucky Winners.

40,000 Lucky Winners Will Each Receive $.50 Off Splash 6pk .5L Or 8oz.
Entry Form
https://www.splashblastbottledbeats.com/
Winners List
not available