CAMBOZOLA Taste The Extraordinary Giveaway - Win A $10,000 Trip For 2 To Hawaii, Florida Or Puerto Rico - CAMBOZOLA
Top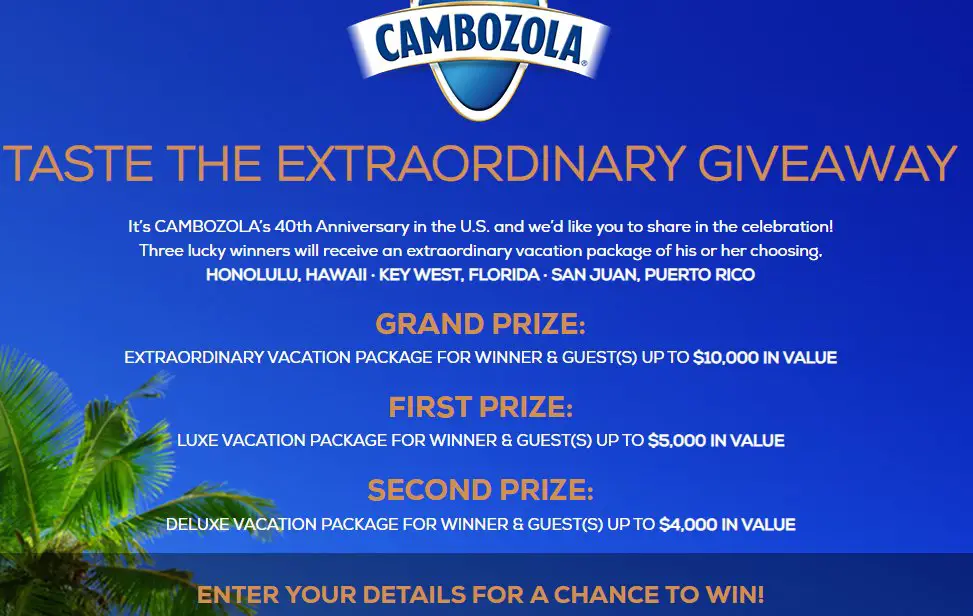 CAMBOZOLA's 40th Anniversary Sweepstakes

CAMBOZOLA is celebrating her 40th Anniversary in the U.S. with this amazing sweepstake.

3 Winners, 3 Vacation Destinations!

Destination options include Hawaii (Honolulu), Florida (Key West) and Puerto Rico (San Juan).

The Grand prize is a $10,000 Vacation package for 2.

The 2 other winners will each receive a $5,000 and $4,000 Vacation Package For 2 respectively.

Airfare, accommodations and fun activities are covered in all the packages but only the Grand Prize comes with First Class Airfare.

Interested?
Enter NOW!
First Prize
1 Winner - $10,000 Vacation For 2 To Hawaii (Honolulu), Florida (Key West) Or Puerto Rico (San Juan).
- Includes First Class Plane Tickets, Accommodations & More
Other Prizes
1 Winner - $5,000 Vacation For 2 To Hawaii (Honolulu), Florida (Key West) Or Puerto Rico (San Juan)
1 Winner - $4,000 Vacation For 2 To Hawaii (Honolulu), Florida (Key West) Or Puerto Rico (San Juan)
Winners List
not available