Win An Outdoor Kitchen Makeover In The POLYWOOD Ultimate Backyard Giveaway - Polywood
Expired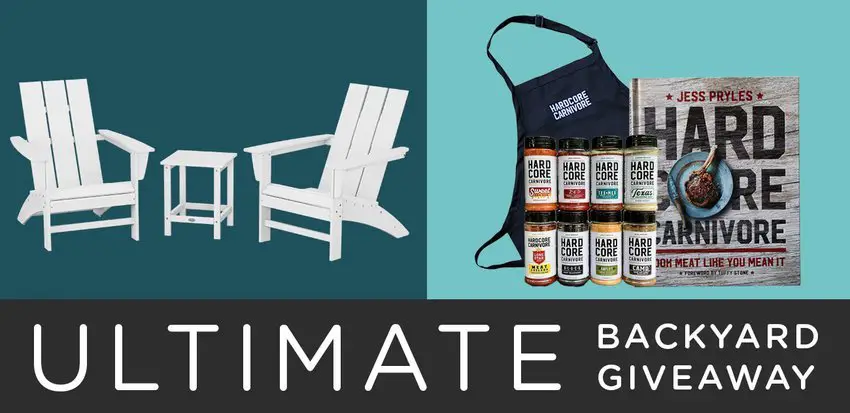 Change the feel and look of your outdoor kitchen this season with some free essentials for your outdoor living.

Win some amazing prizes including one Hardcore Carnivore BBQ Grilling Kit and more.

It is the POLYWOOD Ultimate Backyard giveaway, and submission of entry is open.

Every week for four weeks, winners will be rewarded with kitchen essentials to make the holiday season a memorable one.

To enter, subscribe to the POLYWOOD email list. You can also earn additional entries by following POLYWOOD on Instagram and Facebook.

There will be 8 Winners...

Week 1: 1 Winner - a Hardcore Carnivore BBQ Grilling Kit including a MAX PACK Rub Shaker Multi Pack, signed Hardcore Carnivore Cookbook, and a Hardcore Carnivore Black Butcher's Apron, as well as a POLYWOOD Modern 3-Piece Adirondack Set with Long Island 18" Side Table
Value - $810

Week 2 : 1 Winner - a Kamado Joe Classic II Grill and POLYWOOD Classic Adirondack 3-Piece Set with South Beach 18" Side Table in the Winner's choice of color (dependent on available colors at the time of the prize draw).
Value - $1,794

Week 3: 3 Winners - 1 Martha Stewart by POLYWOOD Chinoiserie 3-Piece Rocking Chair Set
Value - $1,195

Week 4: 3 Winners will receive 1 Country Living by POLYWOOD 3-Piece Deep Seating Sets
Value - $1,349

Interested?
Enter NOW!
First Prize
Week 1: 1 Winner - a Hardcore Carnivore BBQ Grilling Kit including a MAX PACK Rub Shaker Multi Pack, signed Hardcore Carnivore Cookbook, and a Hardcore Carnivore Black Butcher's Apron, as well as a POLYWOOD Modern 3-Piece Adirondack Set with Long Island 18" Side Table
Value - $810

Week 2 : 1 Winner - a Kamado Joe Classic II Grill and POLYWOOD Classic Adirondack 3-Piece Set with South Beach 18" Side Table in the Winner's choice of color (dependent on available colors at the time of the prize draw).
Value - $1,794

Week 3: 3 Winners - 1 Martha Stewart by POLYWOOD Chinoiserie 3-Piece Rocking Chair Set
Value - $1,195

Week 4: 3 Winners will receive 1 Country Living by POLYWOOD 3-Piece Deep Seating Sets
Value - $1,349
Entry Form
https://www.polywood.com/ultimate-backyard-giveaway
Winners List
not available
Added

Started

Expired

Expired

Prize Count

8

Prize Value

$5,148

Minimum Age

18

Sponsor

Polywood

Type

Giveaway

Entry Frequency

Other

Categories