Kohl's Black Friday Sweepstakes - Win A $5,000 Trip To LEGOLAND, Gift Cards & More In The Kohl's TGIBF Sweepstakes - Kohl's
Expired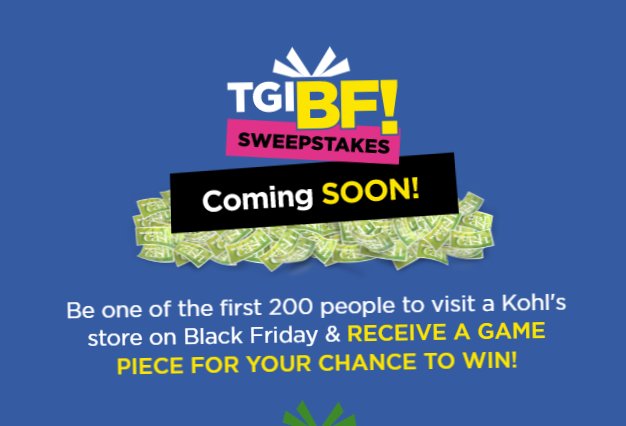 Kohl's TGIBF Sweepstakes - Don't Miss The Kohl's Black Friday Sweepstakes -

Mark the date, November 25th 2022 and don't miss out on the chance to win great prizes in Kohl's Black Friday Sweepstakes.

Almost $2 million dollars worth of prizes will be available to be won.

Up for grabs are a $5,000 trip to LEGOLAND for 20 different winners and other prizes.

Other prizes include Kohl's Gift Cards, $50 Sephora Gift Cards, Shark Prize Packs, FitBit Family Packages, Cuisinart Kitchen Upgrade Packages, Samsonite Carry on Luggage and more.

There will be over 200,000 winners.

Interested?

Mark the date and shoot for being one of the first set of people to visit a nearby Kohl's store on Black Friday, you will be given a GAME PIECE which will give you a chance to win!

The sweepstakes will only be open for 3 hours - 5 am to 8 am on Black Friday 2022.
Don't Miss IT!!!

Click The Link Below For MORE DETAILS!!!
First Prize
20 Winners - $5,000 LEGOLAND Trip
Other Prizes
208,930 Winners - $5 Kohl's Cash / Gift Card
20,000 Winners - $10 Kohl's Cash / Gift Card
2,500 Winners - $25 Kohl's Cash / Gift Card
1,000 Winners - $50 Kohl's Cash / Gift Card
2,000 Winners - $50 Sephora Gift Card
25 Winners - $1,550 Shark Prize Pack
25 Winners - $1,140 Ninja Refresh Your Kitchen Bundle
50 Winners - $900 FitBit for your Family Package
50 Winners - $1,760 Cuisinart Kitchen Upgrade Package
100 Winners - $279 Samsonite Ziplite Carryon Luggage
100 Winners - $1,075 Stella Grace Jewelry Prize Pack
Entry Form
https://kohlstgibf.com
Winners List
not available
Restrictions/Eligibility
The Sweepstakes will only open for 3 hours on Black Friday, November 25th 2022
Added

Started

Expired

Expired

Prize Count

213,850

Prize Value

$1,892,800

Minimum Age

18

Sponsor

Kohl's

Type

Sweepstakes

Entry Frequency

One Time

Categories