12 Days of CrossMas Giveaway - Win $500 Reebok Gift Card & More (12 Winners) - Morning Chalk Up
Expired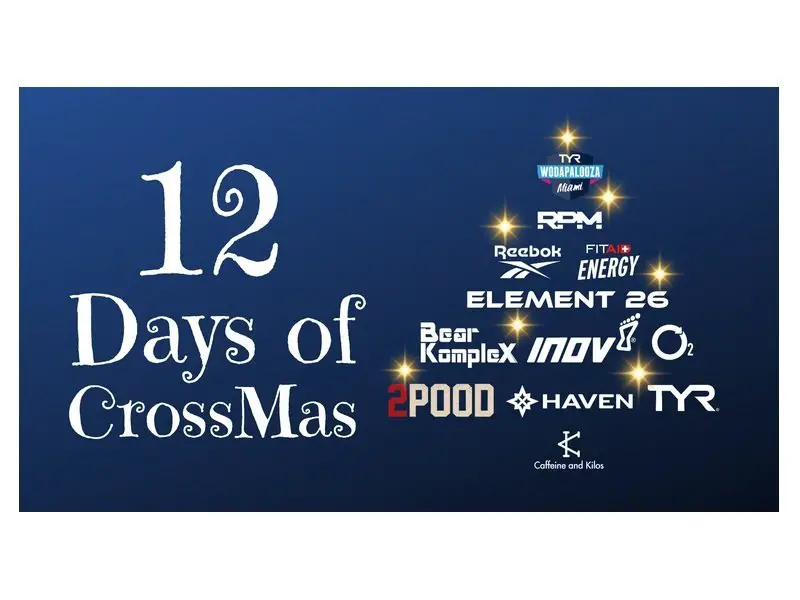 Are you into cross fit?
Then you don't want to miss this giveaway!

Check out the latest sweepstakes from Morning Chalk Up and get a chance to win one of their daily prizes from December 1 to December 12, 2022! Check out their daily prizes:

December 1 Winner - $100 Gift Card, One Pair of L1 Lifters, CXT-1 Trainers, and TYR Sunglasses
December 2 Winner - FITAID Energy Products Worth $500
December 3 Winner - Backpack and Duffel Bag Set
December 4 Winner - A 2POOD Backpack with Crossfit Equipment
December 5 Winner - inov-8 Crossfit Outfit Prize Pack
December 6 Winner - Element 26 Crossfit Strength Conditioning Kit
December 7 Winner - 12-Months Subscription to O2, One Hoodie and Water Bottle
December 8 Winner - 12-Months Coffee Subscription to Caffeine and Kilos with Official Merch
December 9 Winner - RPM Training Co. Crossfit Workout Prize Pack
December 10 Winner - Bear KompleX Crossfit Workout Prize Pack
December 11 Winner - Two VIP Tickets to TYR's Wodapalooza in Miami (3-Day Pass)
December 12 Winner - $500 Rebook Gift Card

If you want to win one of these amazing prizes, simply click on the link below and follow the instructions.

So what are you waiting for? Enter now for a chance to win these prizes soon!
First Prize
December 1 Winner - $100 Gift Card, One Pair of L1 Lifters, CXT-1 Trainers, and TYR Sunglasses
December 2 Winner - FITAID Energy Products Worth $500
December 3 Winner - Backpack and Duffel Bag Set
December 4 Winner - A 2POOD Backpack with Crossfit Equipment
December 5 Winner - inov-8 Crossfit Outfit Prize Pack
December 6 Winner - Element 26 Crossfit Strength Conditioning Kit
December 7 Winner - 12-Months Subscription to O2, One Hoodie and Water Bottle
December 8 Winner - 12-Months Coffee Subscription to Caffeine and Kilos with Official Merch
December 9 Winner - RPM Training Co. Crossfit Workout Prize Pack
December 10 Winner - Bear KompleX Crossfit Workout Prize Pack
December 11 Winner - Two VIP Tickets to TYR's Wodapalooza in Miami (3-Day Pass)
December 12 Winner - $500 Rebook Gift Card
Entry Form
https://gleam.io/acWIM/12-days-of-crossmas
Winners List
not available
Restrictions/Eligibility
18+, Open Worldwide