31 Days of Circle K Giveaway - Lots Of Instant Prizes To Be Won - Circle K
Expired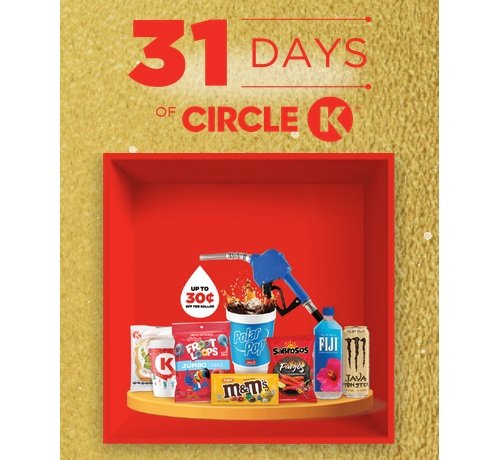 Do you often shop and gas at Circle K?
Then this is the giveaway for you!

Circle K is celebrating Christmas in a big way with a massive instant win game. Click on the link below and follow the instructions to instantly win any of the following prizes:

Coffee (Iced or Hot)
Coffee (Iced or Hot) BOGO
Polar Pop
Polar Pop BOGO
Froster
Froster BOGO
10¢ Fuel Discount
15¢ Fuel Discount
20¢ Fuel Discount
25¢ Fuel Discount
30¢ Fuel Discount
Pizza
Pizza BOGO
Roller Grill
Roller Grill BOGO
Free Sugar Cookie
Free Circle K Pie
Free Circle K Pork Rinds
Free SaBrosos Fuegos
$3 Car Wash Discount
Free M&M'S
Free JAVA Monster
Free Bottled Water
Free BOGO Bottled Water
Kellogg's Froot Loops Jumbo Snax

Sounds amazing right? You can also win one of the 50 special sweaters in their special sweepstakes.

So what are you waiting for? Enter now!
First Prize
50 Winners: Holiday Sweater
Other Prizes
112,493 Winners: Coffee Hot/Iced
42,185 Winners: Coffee Hot/Iced BOGO
281,232 Winners: Polar Pop
70,308 Winners: Polar Pop BOGO
140,616 Winners: Froster
42,185 Winners: Froster BOGO
140,616 Winners: Fuel Save 10¢
84,370 Winners: Fuel Save 15¢
168,739 Winners: Fuel Save 20¢
112,493 Winners: Fuel Save 25¢
70,308 Winners: Fuel Save 30¢
84,370 Winners: Pizza
42,185 Winners: Pizza BOGO
126,554 Winners: Roller Grill
42,185 Winners: Roller Grill BOGO
42,185 Winners: Free Sugar Cookie
98,431 Winners: Free Circle K Pie
84,370 Winners: Free Circle K Pork Rinds
50,000 Winners: Free SaBrosos Fuegos
50,000 Winners: Car Wash Save $3
25,000 Winners: Free M&M'S
25,000 Winners: Free JAVA Monster
25,000 Winners: Free FIJI Water
10,000 Winners: BOGO Free FIJI Water
25,000 Winners: FREE Kellogg's Froot Loops Jumbo Snax
Entry Form
https://win.circlek.com/
Winners List
not available
Restrictions/Eligibility
18+, Not Valid in Rhode Island
Added

Started

Expired

Expired

Prize Count

1,995,825

Prize Value

$4,501,189.82

Minimum Age

18

Sponsor

Circle K

Type

Sweepstakes

Entry Frequency

One Time

Categories