Keith's Appliances 15 Days of Gifts Online Giveaway (15 Winners) - Keith's Appliances
Expired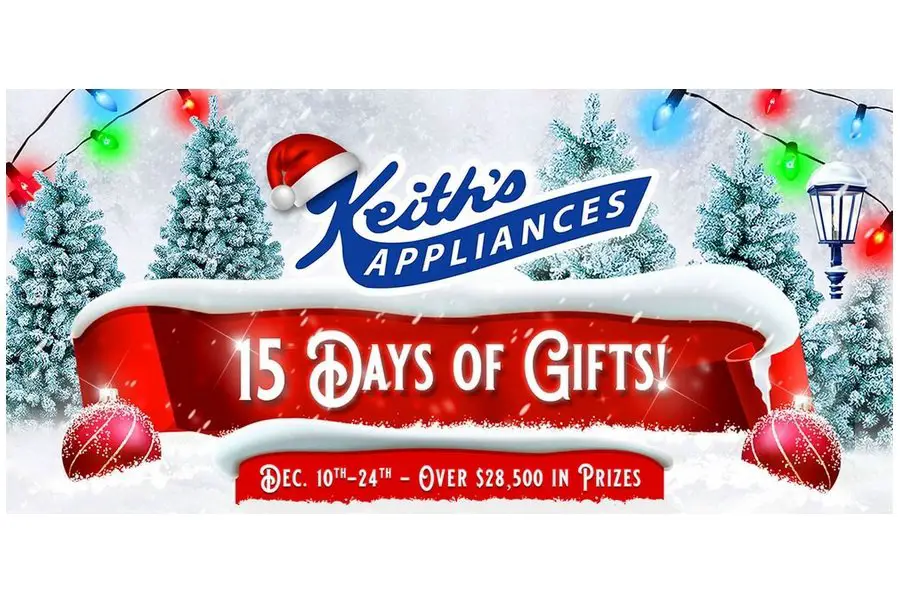 Looking to upgrade your home appliances?
Are you a resident of Rhode Island or Connecticut?
Then this is the perfect giveaway for you!

Enter the latest giveaway from Keith's Appliances for a chance to win one of the 15 giveaway packages. Enter now and be one of the lucky winners from December 10 to 24, 2022 with the following prizes:

December 10 Prize: Grill Accessory Pack
December 11 Prize: Stand Mixer
December 12 Prize: Pellet Grill with Accessories
December 13 Prize: Cordless Vacuum Cleaner
December 14 Prize: Stainless Steel Beverage Cooler
December 15 Prize: Microwave Oven
December 16 Prize: Gas or Electric Convention Range
December 17 Prize: Integrated Dishwasher
December 18 Prize: Propane Gas Grill
December 19 Prize: Washing Machine with Electric Dryer
December 20 Prize: Samsung Smart Front Load Washer with Electric Dryer
December 21 Prize: 19.4 Cu. Ft Refrigerator
December 22 Prize: Stainless Steel Range with Dishwasher and Microwave
December 23 Prize: 27 cu. ft. French Door Refrigerator, Electric Range, Dishwasher and Microwave Oven
December 24 Prize: 27.8 Cu. Ft. French Door Refrigerator, Dishwasher, Electric Range, and Microwave Oven

Sounds amazing right?

If you live in the area, don't miss this opportunity and enter now!
First Prize
Day 15 Prize: 27.8 Cu. Ft. French Door Refrigerator, Dishwasher, Electric Range, and Microwave Oven
Other Prizes
Day 1 Prize: Grill Accessory Pack
Day 2 Prize: Stand Mixer
Day 3 Prize: Pellet Grill with Accessories
Day 4 Prize: Cordless Vacuum Cleaner
Day 5 Prize: Stainless Steel Beverage Cooler
Day 6 Prize: Microwave Oven
Day 7 Prize: Gas or Electric Convention Range
Day 8 Prize: Integrated Dishwasher
Day 9 Prize: Propane Gas Grill
Day 10 Prize: Washing Machine with Electric Dryer
Day 11 Prize: Samsung Smart Front Load Washer with Electric Dryer
Day 12 Prize: 19.4 Cu. Ft Refrigerator
Day 13 Prize: Stainless Steel Range with Dishwasher and Microwave
Day 14 Prize: 27 cu. ft. French Door Refrigerator, Electric Range, Dishwasher and Microwave Oven
Entry Form
https://www.keithsstatus.com/
Winners List
not available
Restrictions/Eligibility
18+, Only Valid in Connecticut and Rhode Island