Santa Jilly's 12 Days of Giving Sweepstakes - Win Diamond Earrings, Gift Cards, Trip to Nimmo Bay Resort & More - JillianHarris.com
Expired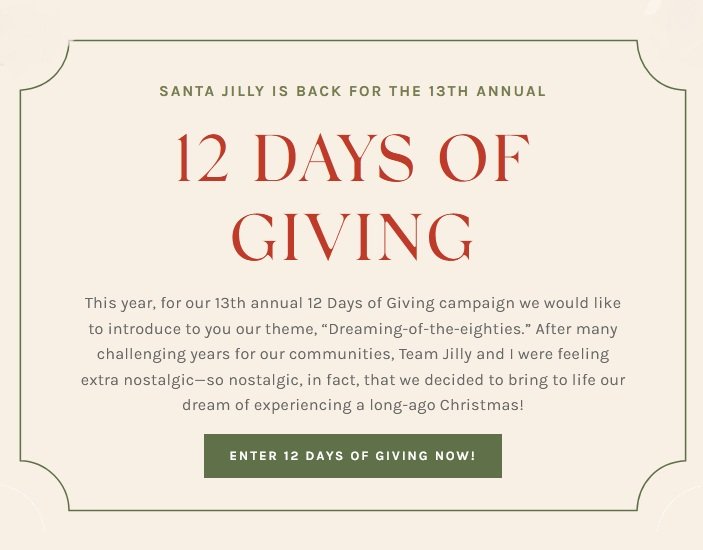 Jillian Harris Giveaway - Santa Jilly's 12 Days of Giving

Shopping for that perfect holiday gift?
Then this is the perfect giveaway for you!

JillianHarris.com is celebrating the holiday season with a grand giveaway! Enter now for a chance to win any of the following prizes:

3-Night Stay at Nimmo Bay Resort with Return Travel to Vancouver and $1,000 Gift Card for Shopping
A Pair of Lab Grown Diamond Earrings
Jillian Harris x CANVAS Christmas Collection Prize Pack
SkinCeuticals by Project Skin Prize Pack
Jillian Harris x Smash + Tess Prize Pack
$1,000 Knix Gift Card
withinUs Prize Pack
Toy Bundle Pack from Mastermind Toys
2022 Winter Jilly Box
One King Size Mattress and Pillow Case Set
$1,000 Home Decor Package from Jardines Domaine Home
$850 Joe Fresh Gift Card and Jilly Shacket, Hat and T-Shirt

Amazing right? The grand giveaway runs from December 1, 2022 to December 14, 2022.

So what are you waiting for? Enter ASAP!
First Prize
1 Winner: 3-Night Stay at Nimmo Bay Resort with Return Travel to Vancouver and $1,000 Gift Card for Shopping
Other Prizes
1 Winner: A Pair of Lab Grown Diamond Earings
3 Winners: Jillian Harris x CANVAS Christmas Collection Prize Pack
5 Winners: SkinCeuticals by Project Skin Prize Pack
10 Winners: Jillian Harris x Smash + Tess Prize Pack
5 Winners: $1,000 Knix Gift Card
3 Winners: withinUs Prize Pack
10 Winners: Toy Bundle Pack from Mastermind Toys
5 Winners: 2022 Winter Jilly Box
4 Winners: One King Size Mattress and Pillow Case Set
5 Winners: $1,000 Home Decor Package from Jardines Domaine Home
5 Winners: $850 Joe Fresh Gift Card and Jilly Shacket, Hat and T-Shirt
Entry Form
https://12days.jillianharris.com/
Winners List
not available
Restrictions/Eligibility
18+, Not Valid in Florida and New York, Also Valid in Canada (Except Quebec)