Boars Head 12 Days of Giving Sweepstakes - Win Kitchen Tools & Cookware - Boars Head
Expired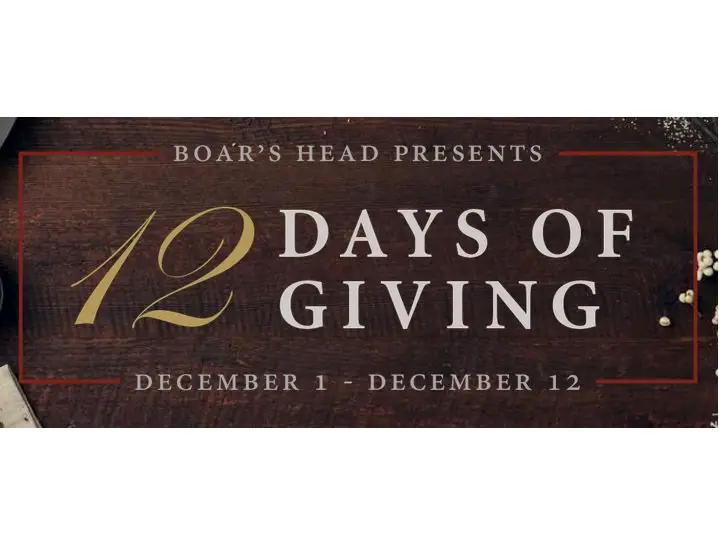 Planning to shop for kitchen tools and cookware for the holidays?
Then you should check out this giveaway right now!

Enter the latest giveaway from Boar's Head for a chance to win the featured prize for the day. From December 1 to December 12, 2022 a lucky winner will receive one of the following prizes:

December 1: 12" Nonstick Fry Pan
December 2: Williams Sonoma Nonstick Bake Set
December 3: Williams Sonoma® Olivewood (XL SIZE)
December 4: Rustic Ceramic Baker
December 5: Nonstick Saucepans
December 6: Hand Mixer
December 7: 3 Piece Hostess Set and Le Creuset® Cruet
December 8: Brass Serving Tray
December 9: Toaster
December 10: Deep Square Baker
December 11: Two Marble Cheese Boards
December 12: One Roasting Pan and 6 Piece Olive Wood Set with Crock

Amazing right? Simply click on the link below and follow the instructions.

Enter ASAP for a chance to win these perfect holiday gifts!
First Prize
December 1: 12" Nonstick Fry Pan
December 2: Williams Sonoma Nonstick Bake Set
December 3: Williams Sonoma® Olivewood (XL SIZE)
December 4: Rustic Ceramic Baker
December 5: Nonstick Saucepans
December 6: Hand Mixer
December 7: 3 Piece Hostess Set and Le Creuset® Cruet
December 8: Brass Serving Tray
December 9: Toaster
December 10: Deep Square Baker
December 11: Two Marble Cheese Boards
December 12: One Roasting Pan and 6 Piece Olivewood Set with Crock
Entry Form
https://boarshead.com/12days
Winners List
not available
Restrictions/Eligibility
18+, 19+ in Alabama and Nebraska, 21+ in Mississippi