12 Days of Giveaways with Rao's Homemade - Win Rao's Homemade Products, Gift Cards, Kitchen Tools & More - Rao's Homemade
Expired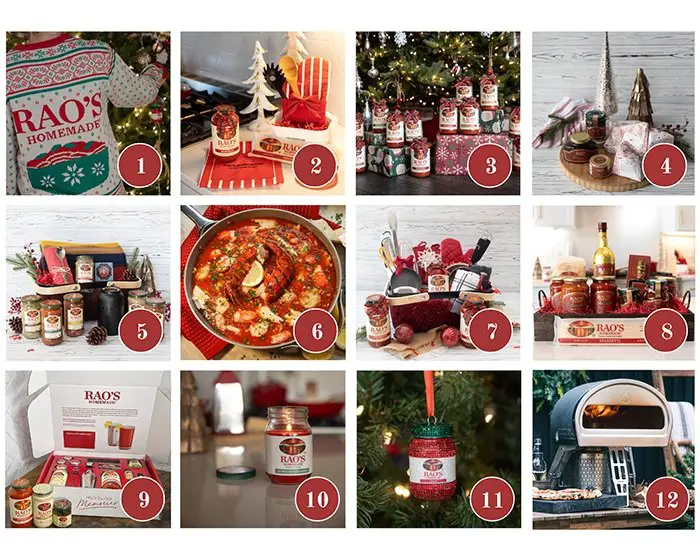 Cooking this holiday season?
Then this is the giveaway for you!

Rao's Homemade is celebrating the holiday season with a daily giveaway from December 1 to December 12, 2022. Check out the daily prizes:

Day 1: Holiday Sweater
Day 2: 24 oz. Marinara Sauce, 16 oz. Homemade Spaghetti, Apron, Strainer, Jar Opener, Oven Mitt, Bamboo Spoon and Pasta Ladle.
Day 3: 12 Jars of Sauce
Day 4: Black Olive Spread, Onion Compote and Balsamic Pomegranate Pearls and Four Different Types of Cheese
Day 5: 6 Soups, Thermos, T-Shirt, Soup Spoon and Blanket
Day 6: 24 Jars of Sauce and $250 Butcher Box Gift Card
Day 7: Basket with Kitchen Essentials and 3 Sauces
Day 8: Limited Red Basket
Day 9: One Bloody Mary Kit
Day 10: One Custom Candle
Day 11: One Custom Ornament
Day 12: Two Cases of Rao's Pizza Sauce, Gold Basket, Small Sampler, a Roccbox and Portable Pizza Oven

Sounds amazing right? Simply click on the link below and follow the instructions. Good luck!
First Prize
Day 12: 1 Winner - Two Cases of Rao's Pizza Sauce, Gold Basket, Small Sampler, a Roccbox and Portable Pizza Oven
Other Prizes
Day 1: 6 Winners - One Holiday Sweater
Day 2: 3 Winners - 24 oz. Marinara Sauce, 16 oz. Homemade Spaghetti, Apron, Strainer, Jar Opener, Oven Mitt, Bamboo Spoon and Pasta Ladle.
Day 3: 1 Winner - 12 Jars of Sauce
Day 4: 1 Winner - Black Olive Spread, Onion Compote and Balsamic Pomegranate Pearls and Four Different Types of Cheese
Day 5: 1 Winner - 6 Soups, Thermos, T-Shirt, Soup Spoon and Blanket
Day 6: 1 Winner - 24 Jars of Sauce and $250 Butcher Box Gift Card
Day 7: 1 Winner - Basket with Kitchen Essentials and 3 Sauces
Day 8: 1 Winner - Limited Red Basket
Day 9: 100 Winners - One Bloody Mary Kit
Day 10: 250 Winners - One Custom Candle
Day 11: 100 Winners - One Custom Ornament
Entry Form
https://woobox.com/u5jmat
Winners List
not available
Restrictions/Eligibility
21+