Maurices 12 Days of Joy Sweepstakes - Win A $1,000 Shopping Spree & More - Maurices
Expired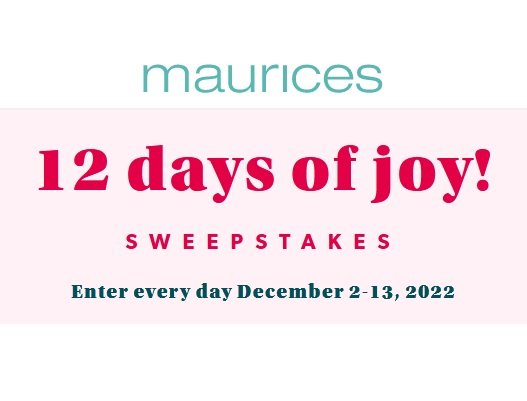 Shopping for some amazing holiday gifts?
Then this might be the perfect giveaway for you!

Check out the latest giveaway from Maurices for a chance to win one of following featured daily prize:

December 2 Prize - Beach Blanket, Sleep Set
December 3 Prize - Single Serve Coffee Maker, One Coffee Mug
December 4 Prize - Create Your Bright Ideas Book, Headband, Hair Clips and Jewelry Box Set
December 5 Prize - Lauren Alaina Surprise Box and Two T-Shirts
December 6 Prize - Tiny House DIY Kit, 5 Pairs of Holiday Socks
December 7 Prize - Nail Art Package, Two Packs of KISS Lash Couture and Nail Art, VNeck Skater Dress
December 8 Prize - Find Your Balance Be Happy Box, One Blazer
December 9 Prize - Holiday Cheer Gift Box, One Scarf and Beanie
December 10 Prize - $100 Evsie Gift Card
December 11 Prize - Smooth Moves Shampoo, Conditioner, Mask, Cream, Serum, Rinse and Lakeside Lounge Set
December 12 Prize - 2023 Calendar, One Pair of Scissors, Phone Stand, Sweater
December 13 Prize - $1,000 Shopping Spree

Amazing right? Simply click on the link below and follow the instructions.

Hurry! Enter ASAP for a chance to win these amazing prize packages!
First Prize
Day 12 Winner - $1,000 Shopping Spree
Other Prizes
Day 1 Winner - Beach Blanket, Sleep Set
Day 2 Winner - Single Serve Coffee Maker, One Coffee Mug
Day 3 Winner - Create Your Bright Ideas Book, Headband, Hair Clips and Jewelry Box Set
Day 4 Winner - Lauren Alaina Surprise Box and Two T-Shirts
Day 5 Winner - Tiny House DIY Kit, 5 Pairs of Holiday Socks
Day 6 Winner - Nail Art Package, Two Packs of KISS Lash Couture and Nail Art, VNeck Skater Dress
Day 7 Winner - Find Your Balance Be Happy Box, One Blazer
Day 8 Winner - HOliday Cheer Gift Box, One Scarf and Beanie
Day 9 Winner - $100 Evsie Gift Card
Day 10 Winner - Smooth Moves Shampoo, Conditioner, Mask, Cream, Serum, Rinse and Lakeside Lounge Set
Day 11 Winner - 2023 Calendar, One Pair of Scissors, Phone Stand, Sweater
Entry Form
https://www.maurices.com/giveaway
Winners List
not available
Restrictions/Eligibility
18+