Full Sail University 12 Days of Gear Giveaway - Win $300 Amazon Gift Card, PS5, iPad & More (12 Winners) - Full Sail University
Expired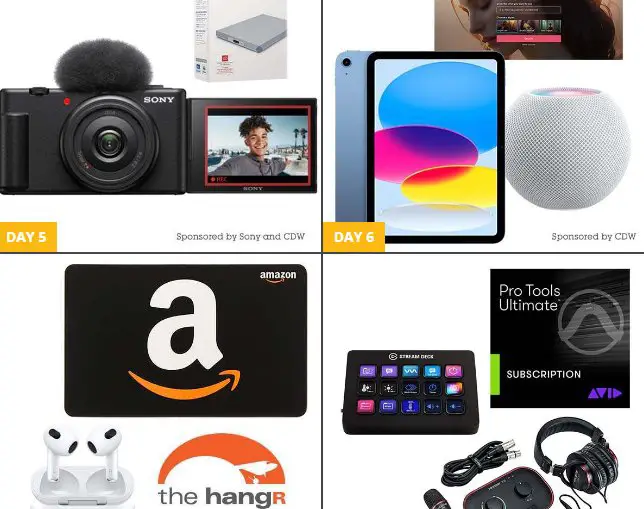 Do you often stream your games?
Then this is the perfect giveaway for you!

Full Sail University is celebrating the holiday season with a daily giveaway from December 5 to December 16, 2022! Check out their daily prizes:

December 05: PS5 With Armada Hat and Decal
December 06: Apple Watch, Airpods and Sunglasses
December 07: Go Pro and Tumbler
December 08: 5-Inch Studio Monitor and Shure MV7
December 09: Sony Vlog Camera and 2TB Mobile Storage Drive
December 10: One iPad, Home Pod and AI Generator Package
December 11: Valve Steam Deck with $50 Steam Gift Card
December 12: Two Shure Mics and Xencelab Quick Keys
December 13: $300 Amazon Gift Card, Airpods and HangR Bundle
December 14: Elgato Stream Deck, Content Creator Steam Deck Pack and Ultimate Pro Tools
December 15: Light Bulbs, Wifi Smart Plugs, Fire TV Stick, Home Pod, Wyze Camera, PhonePhoto Printer, HangR Bundle
December 16: Xbox Series X, T-Shirt, Halo Infinite Game, Armada Shirt and Decal

Impressive right? Simply click on the link below and follow the instructions to enter. Make sure to enter daily to qualify for the daily prize.

These amazing prizes could be yours soon so enter now!
First Prize
Day 12 Winner: Xbox Series X, T-Shirt, Halo Infinite Game, Armada Shirt and Decal
Other Prizes
Day 1 Winner: PS5 With Armada Hat and Decal
Day 2 Winner: Apple Watch, Airpods and Sunglasses
Day 3 Winner: Go Pro and Tumbler
Day 4 Winner: 5-Inch Studio Monitor and Shure MV7
Day 5 Winner: Sony Vlog Camera and 2TB Mobile Storage Drive
Day 6 Winner: One iPad, Home Pod and AI Generator Package
Day 7 Winner: Valve Steam Deck with $50 Steam Gift Card
Day 8 Winner: Two Shure Mics and Xencelab Quick Keys
Day 9 Winner: $300 Amazon Gift Card, Airpods and HangR Bundle
Day 10 Winner: Elgato Steam Deck, Content Creator Steam Deck Pack and Ultimate Pro Tools
Day 11 Winner: Light Bulbs, Wifi Smart Plugs, Fire TV Stick, Home Pod, Wyze Camera, PhonePhoto Printer, HangR Bundle
Entry Form
https://hub.fullsail.edu/12-days-of-gear
Winners List
not available
Restrictions/Eligibility
18+