12-Days of Team USA Holiday Sweepstakes - United States Nutrition, Inc.
Expired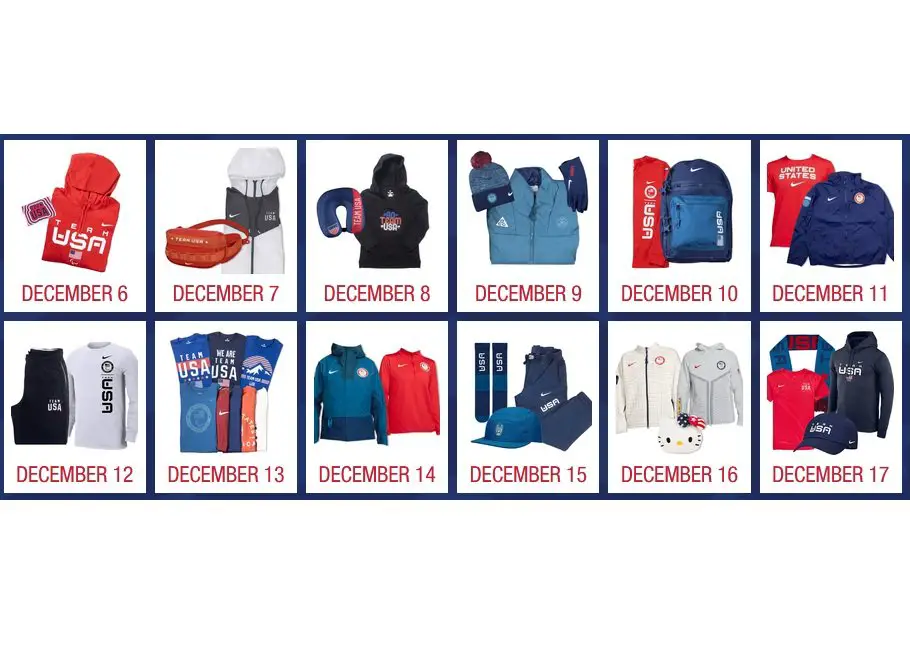 Looking for a fun gift this holiday season?
How about authentic Team USA items?

Team USA and Nike are giving away Team USA official items everyday from December 6 to December 17, 2022. Check out the daily prizes:

December 06: Team USA Magnet and Women's Nike Red Hoodie
December 07: Nike Women's Large Sweatshirt and Fanny Pack
December 08: Team USA Neck Pillow, Black Small Sweatshirt
December 09: Nike USA Women's Large Running Gloves, Beanie and Men's Large Therma-FIT ACG
December 10: Men's Large Paralympic T-shirt, Team USA Navy Blue Backpack
December 11: Nike Team USA 2022 Paralympics Jacket, Dri-Fit Large T-Shirt
December 12: Nike Therma Team USA Pants Small and Men's Dri-Fit Cotton White Long-Sleeved T-Shirt Medium
December 13: Eight Team USA Shirts
December 14: Nike ACG Storm Fit and Dri-Fit Team USA Women's Large 1/2 Zip Top
December 15: Nike Dri-Fit Socks, ACG 5 Dri-Fit Cap, ACG Medium Pants Joggers and Men's Large Standard Fit Pants
December 16: Nike Yoga Women's Large Zip Up, Team USA Medium Jacket and Hello Kitty - Team USA Coin Purse Plush
December 17: Team USA Hooded Xl Sweatshirt, Medium T-Shirt, Team USA Navy Hat and Sport Scarf

Amazing right? Simply click on the link and follow the instructions to enter. Make sure to enter daily for bigger chances of winning.

So what are you waiting for? Enter now!
First Prize
1 Winner: Team USA Magnet and Women's Nike Red Hoodie
1 Winner: Nike Women's Large Sweatshirt and Fanny Pack
1 Winner: Team USA Neck Pillow, Black Small Sweatshirt
1 Winner: Nike USA Women's Large Running Gloves, Beanie and Men's Large Therma-FIT ACG
1 Winner: Men's Large Paralympic T-shirt, Team USA Navy Blue Backpack
1 Winner: Nike Team USA 2022 Paralympics Jacket, Dri-Fit Large T-Shirt
1 Winner: Nike Therma Team USA Pants Small and Men's Dri-Fit Cotton White Long-Sleeved T-Shirt Medium
1 Winner: Eight Team USA Shirts
1 Winner: Nike ACG Storm Fit and Dri-Fit Team USA Women's Large 1/2 Zip Top
1 Winner: Nike Dri-Fit Socks, ACG 5 Dri-Fit Cap, ACG Medium Pants Joggers and Men's Large Standard Fit Pants
1 Winner: Nike Yoga Women's Large Zip Up, Team USA Medium Jacket and Hello Kitty - Team USA Coin Purse Plush
1 Winner: Team USA Hooded Xl Sweatshirt, Medium T-Shirt, Team USA Navy Hat and Sport Scarf
Entry Form
https://teamusa12days.com/register.aspx?AspxAutoDetectCookieSupport=1
Winners List
not available
Restrictions/Eligibility
18+
Added

Started

Expired

Expired

Prize Count

12

Prize Value

$2,404

Minimum Age

18

Type

Sweepstakes

Entry Frequency

Daily Entry

Categories