Sweetwater "Content Creator" Sweepstakes - Win A $4,800 Content Creator Bundle - Sweetwater
Expired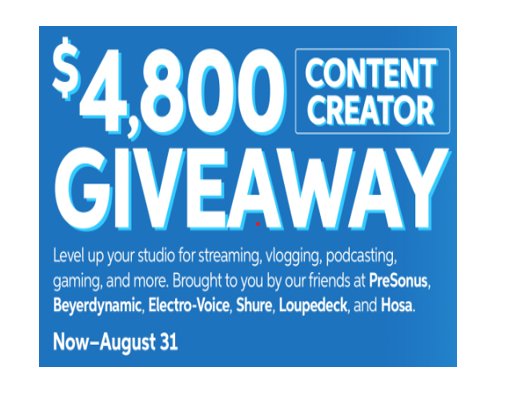 Sweetwater "Content Creator" Sweepstakes

SweetWater is offering you a chance to win a cool Content Creator pack this month!
Don't Miss It!

Enter the SweetWater "Content Creator" Sweepstakes for a chance to win an "Everything You Need & More" bundle for content creation.

The bundle includes...
(3x) DT 1770 Pro Closed-back Studio Reference Headphones
(2x) M70 Pro X Dynamic Broadcast Microphone for Streaming
(1x) RE20 Dynamic Broadcast Microphone with Variable-D
(1x) Studio One 6 Professional
(1x) StudioLive AR8c Mixer and Audio Interface with Effects
(1x) HP4 4-channel Headphone Amplifier
(1x) FaderPort 8 8-channel Production Controller
(3x) Deluxe Articulating Desktop Mic Boom Stand
(1x) Live Customizable Streaming Console
(3x) HMIC-010 Pro Microphone Cable
(2x) HSS-010 Pro Balanced Interconnect Cable

It is worth $4,800.

Interested?
Enter NOW!
First Prize
1 Winner
(3x) DT 1770 Pro Closed-back Studio Reference Headphones
(2x) M70 Pro X Dynamic Broadcast Microphone for Streaming
(1x) RE20 Dynamic Broadcast Microphone with Variable-D
(1x) Studio One 6 Professional
(1x) StudioLive AR8c Mixer and Audio Interface with Effects
(1x) HP4 4-channel Headphone Amplifier
(1x) FaderPort 8 8-channel Production Controller
(3x) Deluxe Articulating Desktop Mic Boom Stand
(1x) Live Customizable Streaming Console
(3x) HMIC-010 Pro Microphone Cable
(2x) HSS-010 Pro Balanced Interconnect Cable
Entry Form
https://www.sweetwater.com/giveaway/
Winners List
not available