Win $25,000 For A Home Makeover In The Cleveland Browns 2023 CrossCountry Mortgage Dedicated Dawgs Sweepstakes - Cleveland Browns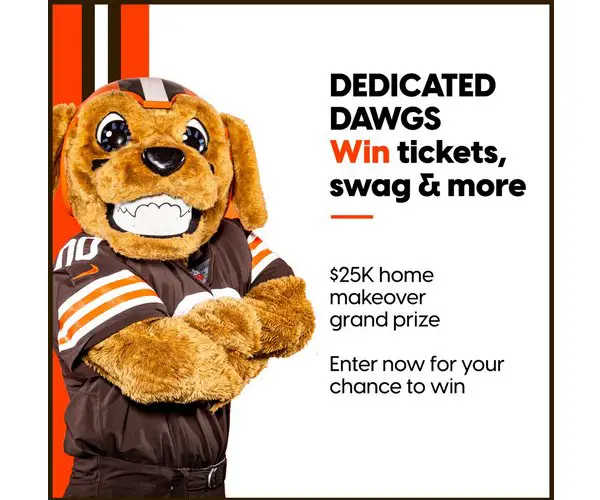 Are you a fan of the Cleveland Browns?
Then you don't want to miss this giveaway!

Check out the latest sweepstakes from the Cleveland Browns for a chance to win home game tickets or outdoor BBQ kits!

Aside from these amazing prizes, you could become the grand prize winner of a $25,000 cash for a home makeover.

Simply click on the link below and follow the instructions. Really easy right?

So don't miss out on these amazing prizes and enter now!
First Prize
1 Winner: $25,000 Cash For A Home Makeover
Other Prizes
3 Winners: One BBQ Kit Cooler
1 Winner: Two Tickets (Dawg Pound) vs. Bengals
1 Winner: Two Tickets vs. Bengals
1 Winner: Two Tickets Sideline Club Seat vs. Bengals
1 Winner: Two Tickets (Dawg Pound) vs. Titans
1 Winner: Two Tickets vs. Titans
1 Winner: Two Tickets Sideline Club Seat vs. Titans
1 Winner: Two Tickets (Dawg Pound) vs. Ravens
1 Winner: Two Tickets vs. Ravens
1 Winner: Two Tickets Sideline Club Seat vs. Ravens
1 Winner: Two Tickets (Dawg Pound) vs. 49ers
1 Winner: Two Tickets vs. 49ers
1 Winner: Two Tickets Sideline Club Seat vs. 49ers
1 Winner: Two Tickets (Dawg Pound) vs. Cardinals
1 Winner: Two Tickets (Dawg Pound) vs. Steelers
1 Winner: Two Tickets vs. Steelers
1 Winner: Two Tickets Sideline Club Seat vs. Steelers
1 Winner: Two Tickets (Dawg Pound) vs. Jaguars
1 Winner: Two Tickets vs. Jaguars
1 Winner: Two Tickets Sideline Club Seat vs. Jaguars
1 Winner: Two Tickets (Dawg Pound) vs. Bears
1 Winner: Two Tickets vs. Bears
1 Winner: Two Tickets Sideline Club Seat vs. Bears
1 Winner: Two Tickets (Dawg Pound) vs. Jets
1 Winner: Two Tickets vs. Jets
1 Winner: Two Tickets Sideline Club Seat vs. Jets
Winners List
not available
Restrictions/Eligibility
18+