Win the Teen Choice 2016 Gift Bag for Yourself! - Miss Literati
Expired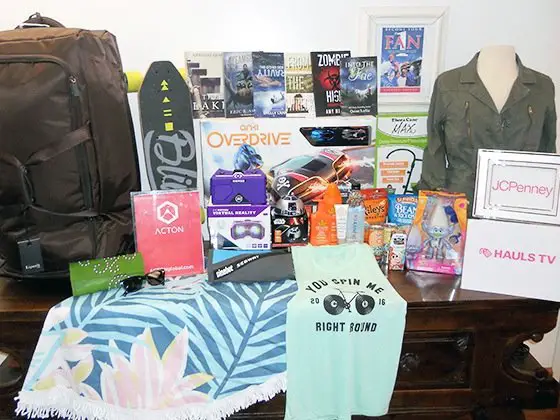 Win a $1200 Teen Choice Awards 2016 Gift Bag full of awesome gifts!

The Teen Choice Awards 2016 Gift Bag includes the following items:

Abella Skin Care, Inc – ColorShade SPF 35 is the perfect combination of broad spectrum sunscreen, color and moisture available in 4 different tints to accommodate any skin type.
ACTON Blink Board – ACTON Blink Lite was delicately engineered to be the lightest electric skateboard available in the market, weighing in at a sheer 7.7 lbs. From cruising down boardwalks to skating a few blocks to the corner store, Blink Lite is the most satisfying and fashionable way to get around. No skateboard is included in this prize. Winner will receive a T-shirt.
Anki OVERDRIVE – Featuring tech so advanced that it feels like the future, Anki OVERDRIVE is the world's most intelligent battle-racing game where you use your mobile device to take control of robotic Supercars on tracks you construct in seconds. Whether you battle A.I. opponents or friends, your tactical options are unlimited as you customize weapons, swap out cars, and build new battlefields; there's always a reason to come back for more!
Hasbro – Standing nine inches tall, these DREAMWORKS TROLLS dolls feature fluffy, fabulous TROLLS hair and removable outfits for oodles of hairstyling and high-fashion fun! Collect six characters including POPPY, BRANCH, HARPER, GUY DIAMOND, MADDY, and DJ; each sold separately.
HaulsTV – HaulsTV: What's Hot, What's New, What's Next and get it. HaulsTV will be distributing round towels by "Pixels":http://pixels.com/. Pixels has revolutionized the way that artwork, home décor and apparel are bought and sold around the world. With a few clicks, artists and photographers can upload their images to Pixels, set their prices for available products, and instantly sell to a global audience of online buyers.
Healthy Craft Services – Serving organic plant-based snacks, drinks, and superfoods out of a Tiny House on Wheels. Available for productions and events.
Hempz – NEW! Hempz Daily Herbal Body Moisturizer and Dry Oil Body Spray with Broad Spectrum SPF 30 are lightly scented, weightless daily moisturizers that help hydrate, protect and improve skin's overall health and appearance. Enriched with 100% Pure Natural Hemp Seed Oil and our Signature Citrus Fruit Complex, these perfectly balanced formulas not only moisturize the skin, but also help protect against the effects of daily elements and sun exposure.
Iceland Glacial – Natural spring water from Iceland.
JCPenney – For men, an Xersion Lightweight Full-Zip Tricot Jacket with stylish sleeve piping, available in an array of colors. For women, an Arizona Women's Twill Anorak Jacket with a drawstring at the waist to give a lean silhouette, available in an array of colors and junior plus sizing. Winner will receive one jacket.
Kathryn Orford's Become your #1 Fan: How to Silence Your Inner Critic and Live the Life of Your Dreams – Finally after all the buzz on "The Law of Attraction," Kathryn Orford gives us the missing link; the real "secret" to manifesting all of our dreams. "This book is a game changer" – Dr. Sugar Singleton Marcy, cellular memory expert, author and international speaker
Lipault – 30" wheeled duffle. Lightweight and foldable, the Lipault wheeled duffle folds flat for easy storage.
Marchon – Designer eyewear by Marchon.
MCFADIN – Handbags, luggage & accessories handmade in Texas by two sisters, Stacy & Laurie McFadin. Winner will receive a purse.
Merge VR Goggles – The Merge VR Goggles are a vessel that will transport you into another world. Slide in your smartphone and let the Merge VR Goggles take you anywhere via virtual reality.
Red Coat PR – Featuring best-selling young adult authors in multiple genres including romance, fantasy, steam punk, paranormal and horror. Available in print and at all major e-book platforms.
Segway miniPRO – The Segway miniPRO is not a hoverboard — it's the next step in the evolution of personal transportation. Powered by Ninebot & Segway technology, the miniPRO is a hands-free two-wheel electric scooter with safer features, higher speeds and longer battery life. A Segway miniPRO is not included in this prize. Winner will receive a T-shirt.
Thera Cane MAX Trigger Point Massager – Treat yourself to deep relief from painful knotted, spasmed muscles. This amazingly simple yet effective self-massager makes it easy to apply pain-relieving deep compression directly to hard, knotted "trigger points" anywhere they occur — breaking up tension even in the hardest-to-reach muscles between your shoulder blades!
ThinkGeek Star Wars R2-D2 Bluetooth Speakerphone – This R2-D2 Bluetooth speaker allows for hands-free calls or playing music. It even plays movie sound clips when the device is switched on, when pairing is completed, and when turned off.
The Zeitgeist – The Zeitgeist is a contemporary brand that celebrates everything of the now. The first line of graphic tees includes exercise, humor, and definition collections.
First Prize
Teen Choice 2016 Gift Bag
Entry Form
http://winit.missliterati.com/sweepstakes/win-the-teen-choice-2016-gift-bag-15977
Winners List
not available